Serial Entrepreneur and CEO of KVP INC, Krish V. Patel, lives the principles of entrepreneurship and works strategically with people on professional development. Krish inspires audiences with his story of growing a successful INC. 500 company and staying true to his passion.
Krish V. Patel is from Greenville, South Carolina and a graduate of the University of South Carolina Upstate Johnson School of Business.
While a full-time student at USC Upstate, Krish also worked full-time for Verizon Wireless as a customer service representative and later as a sales representative. In 2007, while a student in the Johnson College's New Business Enterprise Class, Krish formulated a business plan to start his own Verizon Wireless retail outlet. The plan then led to a trade partnership (franchise agreement) under the name Wireless Communications.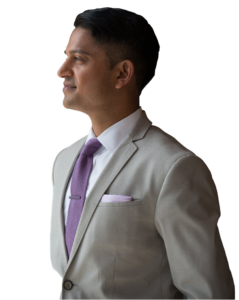 Krish utilized his home as collateral on a $65,000 start-up loan and opened his first Wireless Communications store on Pelham Road in Greenville, SC in October 2008. Within 30 days, he opened his second location on Augusta Road which served as the company's corporate headquarters. Krish served as President and CEO for daily operations of close to 50 Verizon Wireless retail locations throughout South Carolina, Georgia, Kentucky, West Virginia & Texas. This involves everything from staffing sales representatives, searching for new locations, conducting Verizon Corporate Audits/Reviews, construction/renovation and managing the financial side of the business. In 2015, Krish successfully exited 43 of his 50 locations. Today, he continues to serve as CEO for the remaining 9 retail locations.
With the success of Wireless Communications, Krish and his team earned extensive awards from various different national publications including INC. Magazine. In 2012, Inc. Magazine ranked Wireless Communications, Verizon Wireless Premium Retailer NO. 25 on its 31st annual Inc. 500|5000, an exclusive ranking of the nation's fastest-growing private companies. In the same year, The Greenville/Columbia Business Magazine ranked Wireless Communications NO. 1 fastest growing private company in South Carolina. The company appeared on the honorary INC. 500|5000 3 years consecutively thereafter.
In 2015, Krish completed Harvard Business School's Executive Education OPM Program (Owner/President Management). This elite program is designed to develop the outlook, skills, and leadership ability senior executives require to succeed in a curriculum spread out over 3 years.
Today, Krish serves as CEO of his retail and real estate advisory/development company. He uses this as a way to stay connected to his passion, leading from the front in the retail industry. The portfolio today consists of Fortune 100 company brands such as Verizon Wireless retail stores, Mixed Office Space, Yoga Studios, Fitness Gym, Fast Casual Dining and Self Storage. Patel over sees daily operations along side of his management team.
He serves as a board of director of The Urban League of The Upstate and is an active member of EO (entrepreneurs organization) . Krish and his team lend support to events such as Ronald McDonald Annual Gala, Toys for Tots, PULSE Greenville Young Professional's Hangar Party, the St. Francis Mud Run, Fashion Greenville and the India Association of Greater Greenville's annual event.
Founder/CEO – Wireless Communications – SC/TX  /  2008-Current
Managing Partner/Owner – KVP Development , LLC – Retail, Real Estate Advisory and Development
Brands Under Management:
Extra Brilliant Management Group- SC – Founder / Managing Partner / 2018
Soul Yoga Studio – SC – Downtown / Founder – Owner / 2015
Soul Yoga Studio – SC – FiveForks / Founder – Owner / Coming 2019
Swamp Rabbit CrossFit – SC / Owner / 2015
Comfort Storage – SC / Owner / 2016
Wanderlust Yoga Austin – Downtown – TX / Owner / 2017
Wanderlust Yoga Austin – Domain – TX / Owner / 2018
Jersey Mikes Subs (Augusta Rd) – SC / 2017
Extra Space Storage – SC / 2017
CubeSmart – SC / 2019